Lessons Learned From Thai Airways' Application for Bankruptcy & Reorganisation
According to a report on May 19, Thai Airways International's largest shareholder, the Thai government, has submitted a reorganisation plan to the Thai Central Bankruptcy Court. Thai Airways will implement the reorganisation plan under the supervision of the Bankruptcy Court while maintaining normal operations.
This year coincides with the 60th anniversary of the establishment of Thai Airways, but it has ushered in this huge test of survival. As a large country in Southeast Asia, Thailand has a large population, a relatively developed economy, and tourism is a pillar industry. The development of the aviation industry has very favourable external conditions. Thai Airways is known for its high-quality services and is a Skytrax four-star airline. As a state-owned airline with considerable international prestige, it has become the first mainstream airline in Southeast Asia that cannot be sustained. It is indeed somewhat unexpected. Analysing the reasons for this should serve as a warning.
Let us first look at the market position of Thai Airways.
Market share of Thailand's domestic route
In the domestic market, Thai Airways' share of air capacity is only 8%, which is constrained by many low-cost airlines. In the domestic Thai aviation market, Thai AirAsia has the highest share, with a share of 32%; Nok Air accounts for 18%, Thai Lion Air accounts for 16%, and Bangkok Airways accounts for 12%, and Thai Smile Airways accounts for 9%. Among the airlines whose domestic market share is higher than that of Thai Airways, only Bangkok Airways is a full-service airline, and the rest are low-cost airlines. In recent years, the growth of Thailand's domestic aviation market is more than 70% driven by low-cost airlines. Therefore, it is difficult for Thai Airways, a full-service airline, to "take their fists" in the domestic aviation market.

International route market share
Of the two airports in Bangkok, Thai Airways operates from Bangkok Suvarnabhumi International Apt. In the international route market of the airport, Thai Airways has an absolute leading position with a capacity of 30%; Bangkok Airways, which ranks second in capacity, has only a 4% capacity share; Emirates and Thai Smile Airlines each holds 3%, ranking third in place; the remaining 60% is occupied by airlines worldwide with a share of less than 3%.

How big is the impact of the pandemic?
Similar to most airlines, Thai Airways has also been severely affected by the pandemic, and its operations are close to be fully suspended. Since the spread of the pandemic in Asia, Thai Airways has successively grounded flights to many countries in Asia (including China, Japan, etc.); and after the pandemic escalated globally, it has successively canceled flights to Europe, the Middle East, and Australia. Subsequently, few domestic routes (including routes to Chiang Mai, Phuket, and Krabi) were also operated by its subsidiary Thai Smile Airways, leaving only cargo routes intact. As of the end of March, 69 of the 82 Thai Airways aircraft were parked, amounting to 84% of the entire fleet. If calculated based on the fixed cost in the Thai Airways financial report in 2019, in the case of no income from grounding, Thai Airways' daily expenditure accounts to about 300 million baht (about 9.64 million dollar). Some analysts believe that Thai Airways may lose 66 billion baht (about 2.12 billion dollar) due to the pandemic.

Although the Thai government has also provided assistance loans to Thai Airways, it is only a shortfall. According to a report on April 30, Thai Airways has sought approval from the government for an emergency loan of 58.1 billion baht (approximately 1.87 billion dollar), and it will be distributed in instalments according to operational needs. However, Banyong Pongpanich, a former board member of Thai Airways, told the media that the government's aid loan can only allow the company to maintain its operation for another six months, and cannot solve the fundamental problem. It turned out that before the outbreak of the pandemic, Thai Airways had been losing money for consecutive years. When applying for reorganisation, Thai Airways' total debt reached 92 billion baht (2.96 billion dollar), and government assistance was far from enough to cover the debt.

Affected by the 2008 global financial crisis and the Thai political violence campaign, Thai Airways had a net loss of 21.38 billion baht (about 687 million dollar) that year, ending its profit record of more than 40 years. Subsequent 2009 and 2010 's return to profit by 7.42 billion baht (about 238 million dollar) and 14.79 billion baht (about 475 million dollar), but the good times are not long. In the past ten years since 2011, Thai Airways was hardly profitable. In 2012 and 2016, the profit was 6.51 billion baht (about 209 million dollar) and the district's 50 million baht (about 1.61 million dollar). Most of the remaining eight years of losses exceeded 10 billion baht (about 321 million yuan).

It can be seen that, similar to the situation of many other airlines that suffered misfortune under this impact, the pandemic is only overwhelming the "last straw" to breakThai Airways' back, and the internal cause is the main reason. These airlines have either poor business models or poor business decisions that have been losing money year after year. When market demand is strong on normal days, they can still rely on the stability of their accumulated resources. Once a huge shock occurs, they will immediately exposed the problem of insufficient ability to resist risks.
So, for Thai Airways, what caused it to never return to pre-2008, the glorious era of profitability for forty consecutive years?
The bitter fruit of aimless expansion
Affected by the grounding caused by the pandemic, most Thai Airways employees have been forced to take vacations since April and cut their salaries by 10%-40%. On May 9th, The Thai Airways Workers Union published an article on Facebook rebuking the management and government for "wrong decisions" over the years, which caused Thai Airways to change from year-to-year profit to year-to-year loss. These "wrong decisions" include the introduction of different aircrafts models, the adjustment of shareholding structure, and the introduction of new sales distribution systems. Because Thai Airways and trade unions may have labor conflicts, these accusations may be biased. We have analysed the above-mentioned "accusations" and believe that the main reasons may be the following two points:

Aimless introduction of unsuitable aircraft types, the fleet composition is too complicated. The Thai Airways Trade Union mentioned that Thai Airways insisted on introducing Airbus A340 aircraft more than ten years ago. Although the Thai National Economic and Social Development Committee Office at that time repeatedly reminded it to consider carefully, Thai Airways still introduced four Airbus A340-500 during 2004-2005. The union believes that this is the beginning of Thai Airways' decline.

Our analysis found that after introducing the Airbus A340 aircraft, Thai Airways used its characteristics of the longest range at that time to open direct flights from Bangkok to New York, aiming to expand the North American market. However, the result turned out to be unsatisfactory. Due to the lack of direct flights, the route changed to have a stopover at Tokyo. Although the flight was the farthest at the time, the 300-seat dual-aisle airliner used a four-engine design, which resulted in a huge fuel consumption for the A340. Soon after, Boeing launched the 777-200LR twin-engine super long-range passenger aircraft, which has lower fuel consumption and longer range capabilities, which quickly made the A340 lose its competitive advantage. In the end, Thai Airways finally grounded the route in 2008 due to the high fuel cost and the economic crisis.
Thai Airways also tried to use A340 to fly other routes, but they were not profitable. In 2017, Thai Airways planned to withdraw A340 from the company's fleet, but this model is unpopular in the used aircraft market, it is difficult to resell, so it can only be sealed for a long time. These parked Airbus A340 bring additional losses to Thai Airways which amounted to 30-50 billion baht (approximately 965 million -1.62 billion dollar).
In addition to the problems caused by the introduction of the A340, from the perspective of the Thai Airways fleet structure, the Thai Airways fleet has been very complex in the past 20 years. In 2019, Thai Airways has a fleet of 80 aircraft, and there are 6 main types of aircraft, including Boeing 777, Airbus A330, Airbus A350, Boeing 787, Boeing 747 and Airbus A380. It can be seen that Thai Airways is using Boeing 777 as its main fleet combination evolved. But at the same time, we have also seen the composition of the past fleet at Thai Airways, the number of aircraft types is scattered, and the main aircraft types have not been highlighted. Moreover, after the change of multiple aircraft types, the economies of scale of the fleet are low.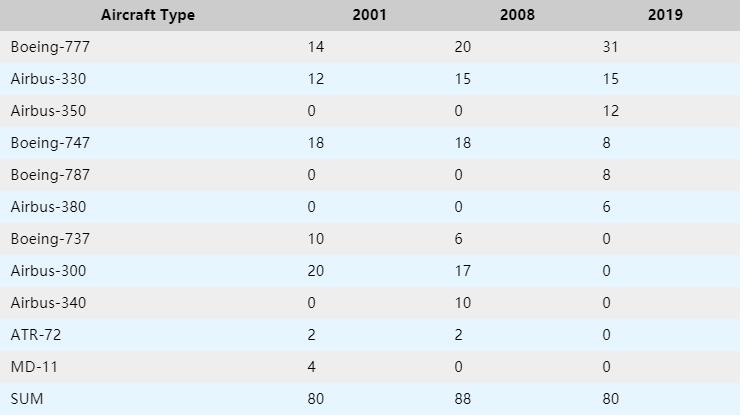 Aggressive external investment, relative low brand coordination. The Thai Airways Trade Union pointed out that three consecutive external investments after 2010 have made Thai Airways' financial situation worse and worse:
In 2010, the company's management established Thai Tiger Airways with the loss-making Singapore Tiger Airways without careful consideration. However, under the strong resistance of many parties, the joint venture project ended in failure in 2011. Thai Airways invested 100 million (about 3.22 million dollar) baht falls on the deaf ears.
Only 5 months after the Thai Tiger Airways joint venture planned abortion, Thai Airways management decided to invest huge capital to build a low-cost airline brand, Thai Smile Airways, resulting in a loss of 10.16 billion baht (about 327 million dollar) in 2011. Thai Airways expected that Thai Smile Airways would be able to make a total profit of about 5.056 billion baht (about 163 million dollar) from 2014 to 2016, but actually lost 4.485 billion baht (about 144 million dollar).
Against the backdrop of meager profits in 2012 and huge losses in 2013, Thai Airways in 2014 promoted the joint venture of its new subsidiary, Nok Air with Singapore Scoot to establish NokScoot, which cost about 983 million baht (about 32 million dollar).
In recent years, the operating conditions of the joint ventures and subsidiaries established by Thai Airways are all not very good. Thai Smile Airlines (100% shareholding), Nok Air (16% shareholding), NokScoot Airlines (NokAir 49% shareholding) are in a state of consecutive years of losses.
After careful analysis, we found that the purpose of Thai Airways' external investment is to form a multi-brand strategy and broaden the market, but in fact, the benefits brought by their multi-brands are far from making up for the high capital investment.
Although in the domestic market of Thailand, the total size of the three airlines of Thai Airways, Nok Air and Thai Smile Airlines has reached a 35% capacity share, it seems to be comparable to its rival AirAsia Thailand. But in fact, Thai Airways, which holds only 16% of the Nok Air's shares, has a weaker binding capability on the company, and the company basically maintains independent operations and even directly competes with Thai Airways on some routes. According to the Thai Airways Trade Union, the company has even ignored the requirements and recommendations of Thai Airways. Thai Smile Airlines is a wholly-owned subsidiary of Thai Airways, but its brand positioning has fluctuated between low cost and regional full-service. It also operates two bases at Suvarnabhumi Airport and Don Mueang Airport in Bangkok. Thai Airways operated solely at Suvarnabhumi Airport cannot be effectively connected, and the coordination is low. However, NokScoot, which is controlled by Nok Air, only uses Don Mueang Airport as its operating base in Bangkok and cannot assist Thai Airways in transporting passengers. It can be said that the multi-brand strategy development of Thai Airways lacks consistency, and it is difficult to form a joint effort against a stronger competitor such as Thai AirAsia.
In addition to the above problems, the corruption history of Thai Airways has also made people lose confidence in it. The bribery case of British aircraft engine manufacturer Rolls Royce caused widespread concern in 2017. The investigation found that it had paid bribes to Thai Airways employees in order to maintain T800 engine orders for Boeing 777-200s models of Thai Airways, and Thai Airways took bribes. The total amount is up to 36.38 million US dollars. Therefore, when the government is preparing to provide assistance loans to Thai Airways, many Thais believe that this state-owned airline company with a history of corruption should not be rescued.
Faced with large consecutive losses, the management has also made many efforts to save the current company. In order to boost the company's revenue, the management proposed a six-point development strategy:
First, to reduce costs without affecting the company's service level; second, to reduce waste, and implement the "Circular Economy" strategy; third, to develop new markets with profit potential; fourth, increase revenue from main operations, including digital transformation and development of auxiliary revenue; fifth, in-depth cooperation with partners to expand sales channels; sixth, enhance transit experience and attract more passengers.
Where is the future for Thai Airways?
After many years of glorious history, Thai Airways has to face reorganisation as a result of a combination of factors. Thai Airways has already come to this point where at this stage, Thai Airways should look into the future and think about how to survive.
Thai Airways is currently implementing restructuring, and initially plans to reduce the size of the fleet, reduce the number of leased aircraft, and will lay off 6,000 personnels (about 30% of the employees) to reduce labor costs.
The Thai government, as a shareholder, is still working hard to help Thai Airways recover. The Thai government has sold about 3.2% of its 51% Thai Airways shares to the Vayupak 1 mutual fund operated by Krung Thai Bank. After the transaction, the Thai government's shareholding in Thai Airways fell to 47.86%. Although the Thai government is still the largest shareholder of Thai Airways, according to the Thai company division rules, Thai Airways is no longer a majority-owned state enterprise. The government's move is to help Thai Airways get rid of some of the legal obstacles for major state-owned enterprises to obtain protection under the bankruptcy law, so that Thai Airways can better obtain the protection of the provisions of the bankruptcy law.
Thai Airways enlightenment to us
The deep foundation accumulated by Thai Airways' forty years of profit has been exhausted in ten years, and because of the excessive development of the plan, the debts are entangled. It is a pity that the "Black Swan" event caused the airline to be on the verge of bankruptcy.
In fact, what is more horrible for the airline than the "Black Swan" event is the "Gray Rhino" event. The "Gray Rhino" incident is a large probability crisis that usually occurs during the business development of the enterprise. The signs were already showing before the outbreak, but it is often overlooked by managers with fluke, and eventually has devastating consequences. As far as Thai Airways is concerned, the loss caused by the initial wrong decision is a sign of decline, but Thai Airways has not been alert and failed to stop the loss in time.
It can be said that every large airline company that has applied for bankruptcy or reorganisation since the outbreak has had its own development problems before the outbreak, and thus fell first among the hits of the "grey rhino" and "black swan" events. Such a crisis also makes us think about what the meaning of "steady development" means for airline companies.
The original article is in Chinese,
this version is translated by Albert K. Field
[5] 注:固定成本中包括人工成本(Employee benefit expenses)、飞机维修成本(Aircraft maintenance and overhaul costs)、折旧与摊销成本(Depreciation and amortization expenses)、飞机租赁与零部件成本(Lease of aircraft and spare parts)、库存与供应(Inventories and supplies)、销售与广告费用(Selling and advertising expenses)、保险费用(Insurance expense)、其他费用(Other expenses)