Airbus, Boeing & Entire Supply Chain Are Threatened By Deepened Pandemic Impacts
Since February, the COVID-19 pandemic has swept the world. As the closest link in the aviation industry chain to public travel needs, airlines bear the brunt. As the air transport markets of various countries are shut down like dominoes, an unprecedented large-scale grounding of the global fleet is taking place. According to Cirium's updated data on April 17, 64% of the world's 26,000 aircraft in service are grounded. As can be seen from industry figures, the current A330, A340 and B787 series grounding ratios of the wide-body aircraft have reached 90%, and due to the busy cargo aircraft, the B777 grounding ratio is slightly lower, about 75%. Also, more than half of the A320 and B737 series of narrow-body aircraft are grounded. Due to the possible deep damage to the global economy caused by the pandemic, the depression is expected to last longer, and it is difficult for air travel to recover as before in a short period.
For many years, aircraft manufacturers and suppliers in the upstream of the aviation supply chain enjoy higher protection due to technical barriers, and the level of competition in the industry is much lower compared to the lower end of the supply chain. However, the COVID-19 pandemic has caused a large-scale blow to the demand side of air transportation, making it difficult for aircraft manufacturers and suppliers to escape.
-Airbus-
At present, the damage to Airbus' commercial aircraft orders has begun to appear, and the aircraft delivery volume has also been greatly affected by the pandemic. In the first quarter of this year, Airbus cancelled 66 aircraft orders, with a net increase of 290 orders and a monthly average net increase of 97, which was higher than last year's monthly net orders for 66 aircraft. Net orders include 248 A320neo, 42 A220 and 4 A350, while cancelled orders include 29 A320neo, 16 A220, 17 A350 and 34 A330neo. However, if we only look at the March data, Airbus received a total of 60 gross aircraft orders, while 39 aircraft orders were cancelled, and the net order volume was only 21, far below the average of 66 aircraft per month last year.

In terms of delivery, Airbus originally planned to deliver 880 aircraft in 2020, slightly higher than the 863 aircraft delivered in 2019. However, in the first quarter, Airbus delivered a total of 122 aircraft, including 31 in January, 55 in February, and 36 in March. The three consecutive months of delivery were lower than the average of 72 in 2019. Delivery level. The aircraft delivered included 91 A320neo, 14 A350, 8 A220, 5 A320ceo, and two A330ceo and A330neo each. In late March, Airbus's factories in France and Spain were shut down due to the pandemic. Airbus' original production and delivery plans were disrupted. At the end of March, it announced the cancellation of the original 2020 production plan and delivery plan. Aviation analyst Sandy Morris predicts that Airbus' delivery this year will likely drop to 650, and it may drop to 600 in 2021.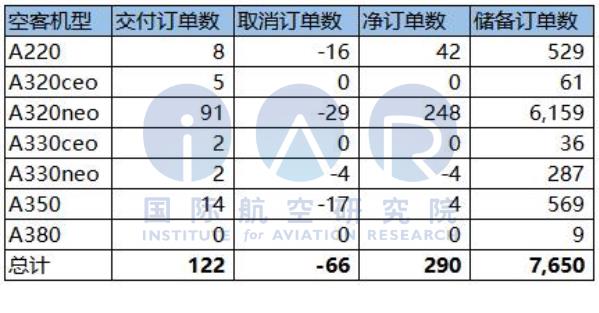 Airbus orders and delivery in the first quarter of 2020
As of March 31, Airbus had 7,650 reserve orders, including 6,220 A320, 529 A220, 323 A330, 569 A350XWB and 9 A380, this is still a positive increase compared to 7,482 reserve orders at the end of 2019. After the outbreak, due to tightened airline funding and declining travel demand, the market's demand for new aircraft will also decline, and the number of new orders is expected to decrease significantly. The current situation may be just the beginning.
Although the impact of the pandemic is not very obvious from the perspective of the number of aircraft orders, the market will remain pessimistic after the pandemic has become a consensus in the industry. Aircraft demand is expected to shrink in the future. To this end, Airbus has announced a reduction of one-third of its output to adapt to market changes. Its most popular single-aisle aircraft A320 production will be reduced from 60 per month to 40 per month. For dual-aisle aircraft, the monthly output of the A350 will be reduced from 10 to 6, and the average monthly output of the A330 series will be reduced from about 4 to 2. According to Reuters, this is Airbus' largest production adjustment to date. At the same time, Airbus's measures to reduce production also brought the question of whether the A380 will be stopped in advance. The airline that operates the largest A380 fleet, Emirates, has significantly reduced its routes, and its business model of using Dubai as a hub to deploy a global route network may be severely tested in the future market environment. Guillaume Faury, CEO of Airbus, said that "it was too early to make any decisions on individual products.". As for Airbus' production cut, "Manufacturers are always very careful about changes in production rates in either direction," said Sash Tusa of Agency Partners. "They will not change unless they can sustain the rate for two to three years." Investors watch production rates closely as a guide to future profits and cash flow. It can be seen that Airbus' decision to reduce production implies Airbus' expectation that the market demand for the aircraft will remain sluggish for a long period of time in the future, and it also ends the period of continuous increase in Airbus' output over the past decade.
While reducing production to adapt to changes in market demand, Airbus still focuses on maintaining flexibility in responding to future markets. They maintain daily information communication with their suppliers, including A330 and A350 engine suppliers Rolls-Royce, and A321 neo's Leap engine supplier Safran France, in order to obtain the latest situation of the suppliers and prepare for recovery at any time. Guillaume Faury, CEO of Airbus, said that he could not predict when rates would rise again, as there remained too much uncertainty about the duration of the crisis. "It is not unlikely things will get better in 2021 but we don't know exactly when." At present, Airbus's French and Spanish factories have been partially resumed.
Airbus think they have a more robust financial base to cope with this protracted crisis. As of December 31, 2019, Airbus held 12.5 billion euros in cash (Net Cash) and 3 billion euros in credit facilities (RSCF), and 22.7 billion euros of cash was invested in high-rated securities. Financing Liabilities is 10.1 billion euros, and its available working capital is 25.7 billion euros. At the same time, Airbus also announced the suspension of shareholder dividends to retain 1.4 billion euros of funds, and postponed employee pension payments. Airbus recently also received another 15 billion euro credit line, of which 5 billion euros are current credit lines, making its current total liquidity has exceeded 30 billion euros.
In addition to the funding methods that have been implemented, Airbus has also retained "back-up methods" in case of unexpected needs. Since Airbus once acquired a German bank as Airbus Bank in 2014, Airbus can use some financial means to maintain cash flow. In addition, Airbus said it can also obtain funds through bond issuance. Airbus has not applied to the government for large-scale capital assistance, but Airbus is maintaining communication with the French and German governments, or will participate in the government's existing assistance projects to pay the wages of workers who have been furloughed. Airbus has a total of 135,000 employees worldwide, and salary expenses account for about 20% of its total cost. Airbus has not yet proposed any layoff plan.
-Boeing-
The 737MAX incident has caused Boeing's total delivery volume to drop by 53% in 2019, and the impact of the 2020 pandemic is worse. Boeing cancelled 196 aircraft orders in the first quarter, with a net loss of 147 aircraft (excluding the 160 aircraft that were removed from the list due to ASC 606 in the first quarter). The model with the most serious cancellations was B737MAX. Customers including Air Canada, Gol Airlines, Smartwings and Avolon cancelled a total of 191 orders for 737MAX. Another 4 B787 and 1 B777 aircraft orders were cancelled. Boeing delivered a total of 50 aircraft in the first quarter, and the average monthly delivery volume of 17 aircraft was much lower than last year's average monthly delivery volume of 31 aircraft. As of March 31, the number of Boeing aircraft reserve orders was 5,428 (if there were 379 aircraft orders removed by ASC 606, it would be 5049 aircraft). In addition to commercial aircraft, Boeing's military aircraft business has also been greatly affected. Boeing delivered 39 military aircraft in the first quarter, compared with 60 in the first quarter of 2019.
Boeing orders and delivery in the first quarter of 2020
The factory shutdown caused by the pandemic is the main reason for affecting the delivery schedule of Boeing. Boeing closed the commercial aircraft plant in Puget Sound on March 25 due to confirmed positive test of coronavirus in the factory and then announced on April 2 that it will close the military plant in Philadelphia for at least two weeks. After a lapse of nearly a month, at present, Boeing announced that it plans to resume production at some factories on April 20, and restart production of B737, B747, B767, B777, B787 and other aircraft models, 27,000 employees will return to work, but Boeing's South Carolina plant will still be shut down.
In order to adapt to the decline in demand caused by the pandemic, Boeing has proposed a plan to lay off 10% of its employees globally, including the voluntary departure of employees, early retirement and termination. Boeing has 160,000 employees worldwide, and people familiar with the matter said that most of the employees to be laid off may come from the commercial aircraft business segment. In a letter to all employees on April 2, Boeing CEO David Calhoun proposed to solicit voluntary leavers from the entire company and distribute compensation for those who leave. The layoffs suggest Boeing's pessimistic expectations for the next few years and concerns about the uncertainty of the pandemic's development, David Calhoun said, "It will take time for the aerospace industry to recover from the crisis, when the world emerges from the pandemic, the size of the commercial market and the types of products and services our customers want and need will likely be different. We will need to balance the supply and demand accordingly as the industry goes through the recovery process for years to come. It's important we start adjusting to our new reality now."
In response to the outbreak, Boeing also used various methods to raise funds. Before the outbreak, because Boeing 737MAX was grounded worldwide, Boeing was already plagued by tight cash flow. From 2018, the profit fell by nearly 12 billion US dollars, and the loss in 2019 was nearly 2 billion US dollars. The advent of the pandemic has made Boeing's financial problems more serious. On the one hand, Boeing previously submitted US $ 60 billion in aid funds to the US government on behalf of the US aviation manufacturing industry, and is waiting for the government to arrange specific assistance plans; on the other hand, Boeing also requested Lazard and Evercore to seek investment in the capital market. The US government's "two trillion dollars" aid plan (CARES Act) also includes $17 billion in targeted rescue funds for the defence military industry, and Boeing may also benefit from it. Analysts believe that Boeing needs to raise at least an additional 20 billion US dollars to be basically enough to cover all costs and debts this year.
Since the beginning of the year, Boeing's market value has been venting all the way. On April 10, Moody's Investors Service has downgraded the senior unsecured debt ratings of Boeing and its finance arm Boeing Capital Corporation from 'Baa1' to 'Baa2′ and the outlook is negative, Moody's senior vice president and lead analyst Jonathan Root said: "The coronavirus is likely to become a significantly greater pressure point on Boeing than the long-running 737 Max crisis." Moody's said that the "near-term impact of the coronavirus is acute. The potential for order deferrals and cancellations is a material risk factor, fueled by expected significant reductions in airlines and aircraft lessors' fleet sizes and/or orderbooks for indeterminate time periods."
The pandemic has had a huge impact on upstream companies in the aviation industry, but at the same time, the business of these manufacturing companies is also more diversified. When the civil aviation sector is seriously affected, the stability of other business sectors may become an important factor that determines the survival of enterprises: Airbus and Boeing have both civil and defence business modules. Although the civil aviation market is currently in a downturn, the orders for defence military industry may be more stable; and Roll-Royce and GE are involved in a wider range of business areas. It is understood that Rolls-Royce's defence and power system business segments are affected by the pandemic, and GE's business in the fields of power, new energy and health will also effectively complement the aviation field. We will continue to pay attention to the follow-up operations of these representative enterprises in the upstream of the aviation industry chain.



Author: IAR

The original article is in Chinese, this version is translated by Albert K. Field