2019 China-Europe Aviation Summit was reported by CGTN
The 3rd China-Europe Avaition Summit was sucessully held in Beijing from 20th to 22th November 2019. Journalist from China Global Televsion Network (CGTN) gave a whole analysed report on the CGTN website.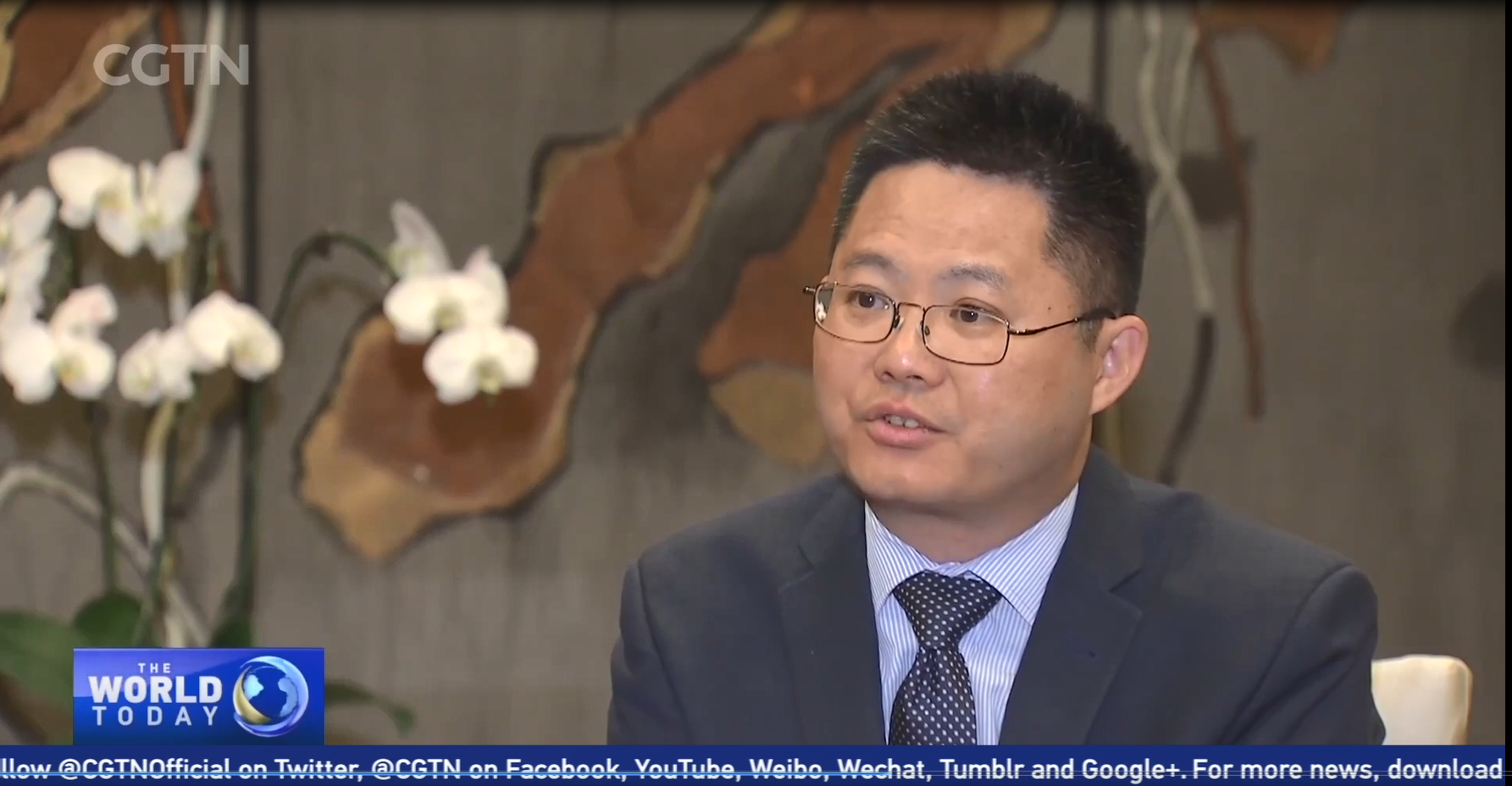 Lei Zheng, President of IAR
China Global Television Network, or CGTN, is an international media organization launched by CCTV on December 31, 2016. It is now part of China's predominant radio and television broadcaster, China Media Group, which has incorporated CCTV, CNR and CRI since March 2018.The CGTN media convergence center endeavors to create a world-leading news content brand, integrating various media assets, technologies and management resources. From multimedia journalism to news cloud sharing, from tailored production to multiple delivery channels, it's designed to maximize the efficiency of content production.
China and Europe to enhance aviation cooperation
Updated 21:25, 24-Nov-2019
Ning Hong (CGTN)


In 2018, there were 15 million passengers traveling between China and Europe by air. And the number is growing at around 10 percent annually.
According to the Civil Aviation Administration of China (CAAC), more than 100 new air routes have been opened between China and Europe since 2017.
In 2019, four new Chinese airlines and six more cities in China connected to Europe.
Behind the soaring numbers, it is the ever-growing social, economic, and political ties between China and European countries.
Research conducted by the Institute for Aviation Research, an independent think tank based in the UK, has revealed some key power sources behind the booming China-EU aviation market.
More new air routes
The research analyzed main indices in the aviation market from 2007 to 2019, including monthly frequency and monthly seats. The result indicates that the share from Chinese carriers is rising.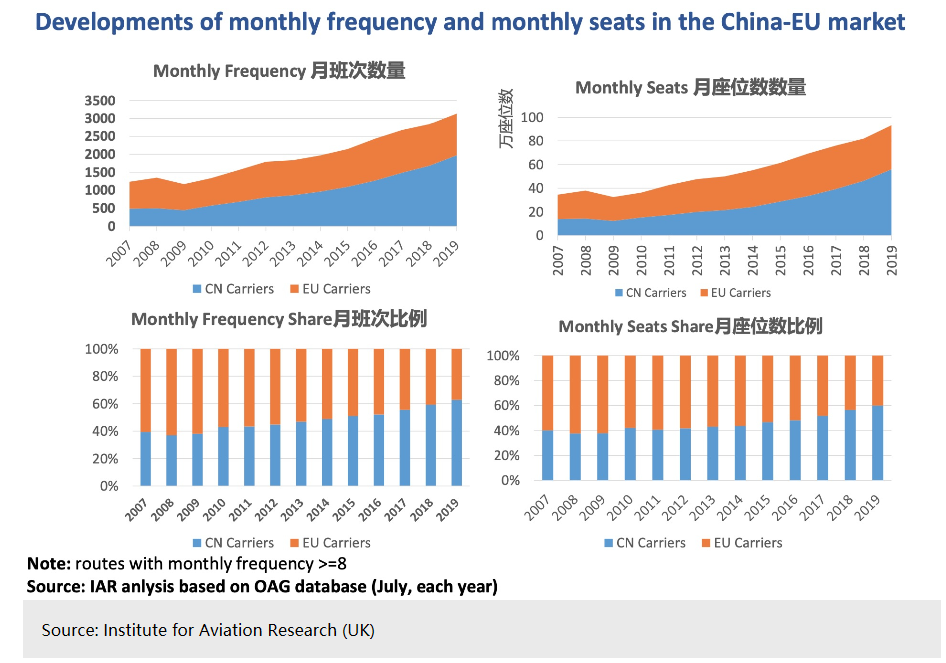 The turning point was in 2014, when the number of air routes run by European based carriers, for the first time, caught up with the number of China-based carriers. From there, the number of air routes run by Chinese carriers has soared from 35 to over a hundred.

"In a long-range market like this, the number of passengers has more than doubled in such a short time. This is rarely seen in the global aviation market," said Lei Zheng, president of the Institute for Aviation Research (UK).
This is mainly because of the fast development of China's economy. As the income of more Chinese people rises, people from China are traveling more to Europe. Direct flights that connect Chinese cities with European cities increased to 34 in 2018. According to CAAC, air routes originating from China's second and third-tier cities make up 80 percent of new air routes that have opened since 2017.
As a result, more cities in Europe now have direct flights to China.
"We've seen certainly since launch of the Manchester Beijing routes, a very big impact economic certainly in terms of growing numbers of visitors, growing number of investors but also students who coming now to study in universities not only in Manchester but across the north of England," said Rhys Whalley, executive director of Manchester China Forum.
In the meantime, cooperation at the governmental level has been reinforced. In May 2019, China and EU signed a landmark agreement: Agreement on Civil Aviation Safety between China and the European Union, and Agreement between China and EU on certain aspects of Air Services.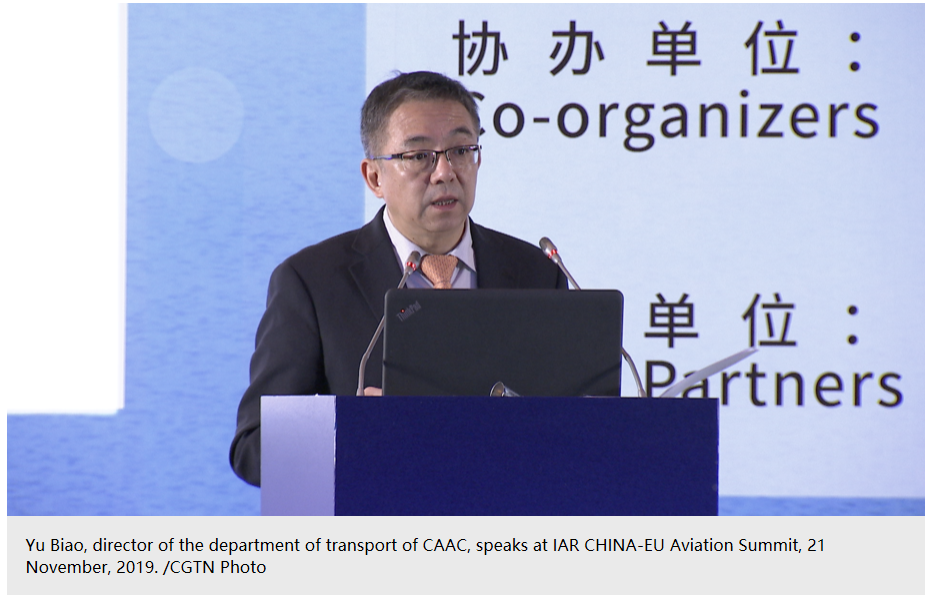 In a China-EU Aviation Summit held in Beijing on Thursday, officials from CAAC expressed that China is willing to foster a more dynamic and high-quality development of China-EU market, by further opening the market, advocating aviation liberalization and facilitation, and jointly promoting the implementation of more active, open and flexible aviation policies with the European side.
More air hubs & a shift in connecting market
China is striving to build its own international air hubs, with Beijing on top of the list. In October this year, Beijing's new airport, the Beijing Daxing International Airport opened. The airport was heralded as "a new power source" by Chinese President Xi Jinping during his inspection at the airport.
Beijing's Capital Airport is the world's second airport that has a passenger flow exceeding 100 million annually. And the new Daxing Airport has a target of reaching 72 million traffic volume by 2025. The strategy is to make it a major international air transit hub in Asia.
The competition and cooperation in China-EU market are causing a shift in major transit hubs.
Beijing has moved from sixth to first among the top 15 transit hubs in the market, where passengers from China take up 66 percent in the China-EU market. However, in terms of international transit, it is the Moscow Sheremetyevo Airport that gains extensive development, taking 10 percent of the China-EU transfer market.
"First we can say this is the geographical position of Moscow, which is convenient for Chinese travelers to go to Europe," said Nikonov Alexander, head of Foreign Airlines Division of Aviation Marketing and Commerce Department of Sheremetyevo Airport. The airport is also one of the favorite destinations and transit hubs among the younger generation. "Also, we introduced all the latest China-friendly standards. The passengers can pay with Wechat and Alipay, which also focuses on making the journey easier so Chinese passengers could feel almost like home."
The optimistic prospect of China-EU aviation market also brings opportunities to countries along the Belt and Road.
"We looked at central Asia as the untapped market for aviation. We have found out the number is very clear. If we could liberalize the air space in central Asia, both sides will benefit," said Odbayar Erdenetsogt, executive director of International Think Tank for Landlocked Developing Countries. "When it comes to high value, low bulk goods for landlocked developing countries for exporting and importing, it could play a major role, could be beneficial for all sides."
Risks & sustainability
The major players in the origin-destination market, which means direct flights between cities, are also changing, with more Chinese airlines joining the game. While traditional European based airlines are more cautious in opening new air routes, Chinese airlines are in a more active position.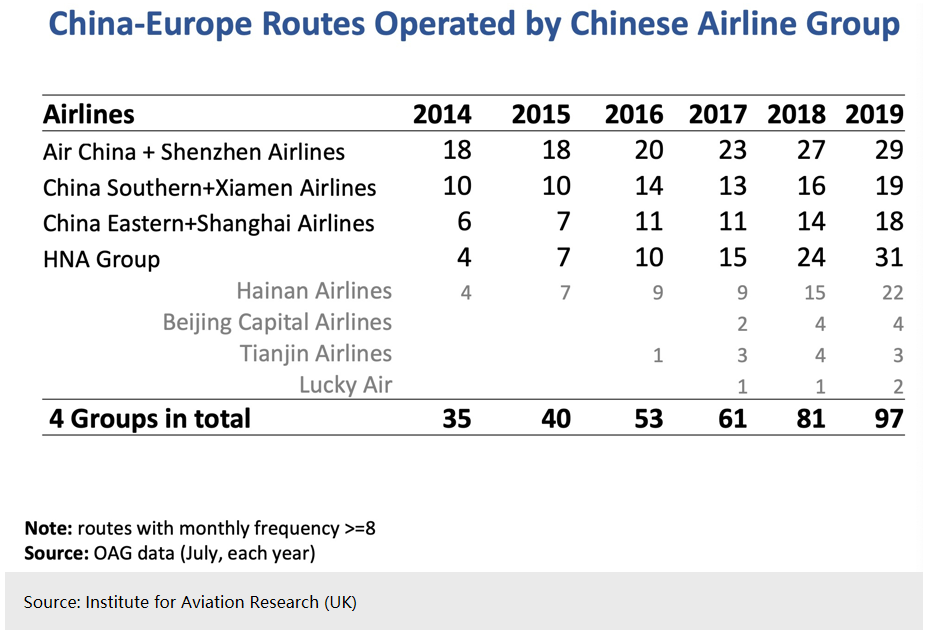 However, the fast expansion also raises concerns in profitability among new air routes. "It often takes three to five years to foster an intercontinental air route. And the airlines are taking a big risk," warns Lei. "Yet, the profit should not be seen simply from the air route, but also from its contribution to regional economic and social development."
"Airlines take huge risks in opening new flight routes, and it often brings significant benefits to the local economy. But the airlines do not benefit from it," he added.
He suggests that new business models should be considered in reinforcing the co-operation among airlines, airports, and local governments, in order to share the risk of opening new air routes.
CAAC forecast that the growth ratio could be maintained at above 7 percent in the next 15 years, which indicates that the potential in the China-EU market is enormous.